Nevada Division of Forestry Partners with Rutledge Airborne Applications to Enhance Wildland Firefighting Capabilities
The Nevada Division of Forestry (NDF) is excited to announce it has partnered with Rutledge Airborne Applications to provide critical air support for wildland firefighting throughout Nevada.
This three-year partnership contract significantly increases fire response capabilities by utilizing state-of-the-art single engine air tankers (SEATs).
SEATs are compact, versatile aircraft that can launch from smaller regional and local airports, such as those in Minden and Elko. They can fly multiple missions within an hour, depending on proximity to a refill base. These aircraft can also cover a greater range and fly at higher speeds than NDF's current helicopter fleet.
Because of their smaller size, SEATs can safely maneuver in areas that are difficult to access. "We can go virtually anywhere, and we'll work out from whatever base is closest to the fire to keep us efficient." – says Cade Boeger, a pilot for Rutledge.
With fire seasons growing longer and more extreme each year, states like Nevada are reimagining their approach to fire preparedness to meet today's challenges, including climate change impacts. "This new partnership with Rutledge gives us more flexibility and efficiency in our response to wildfires. Our priority is to protect firefighters and first responders, Nevada families, communities, and natural ecosystems," explains Nevada's State Forester Firewarden Kacey KC.
The first two SEATs arrived in Reno on Sunday night and are ready to assist firefighters on the ground anywhere in the state.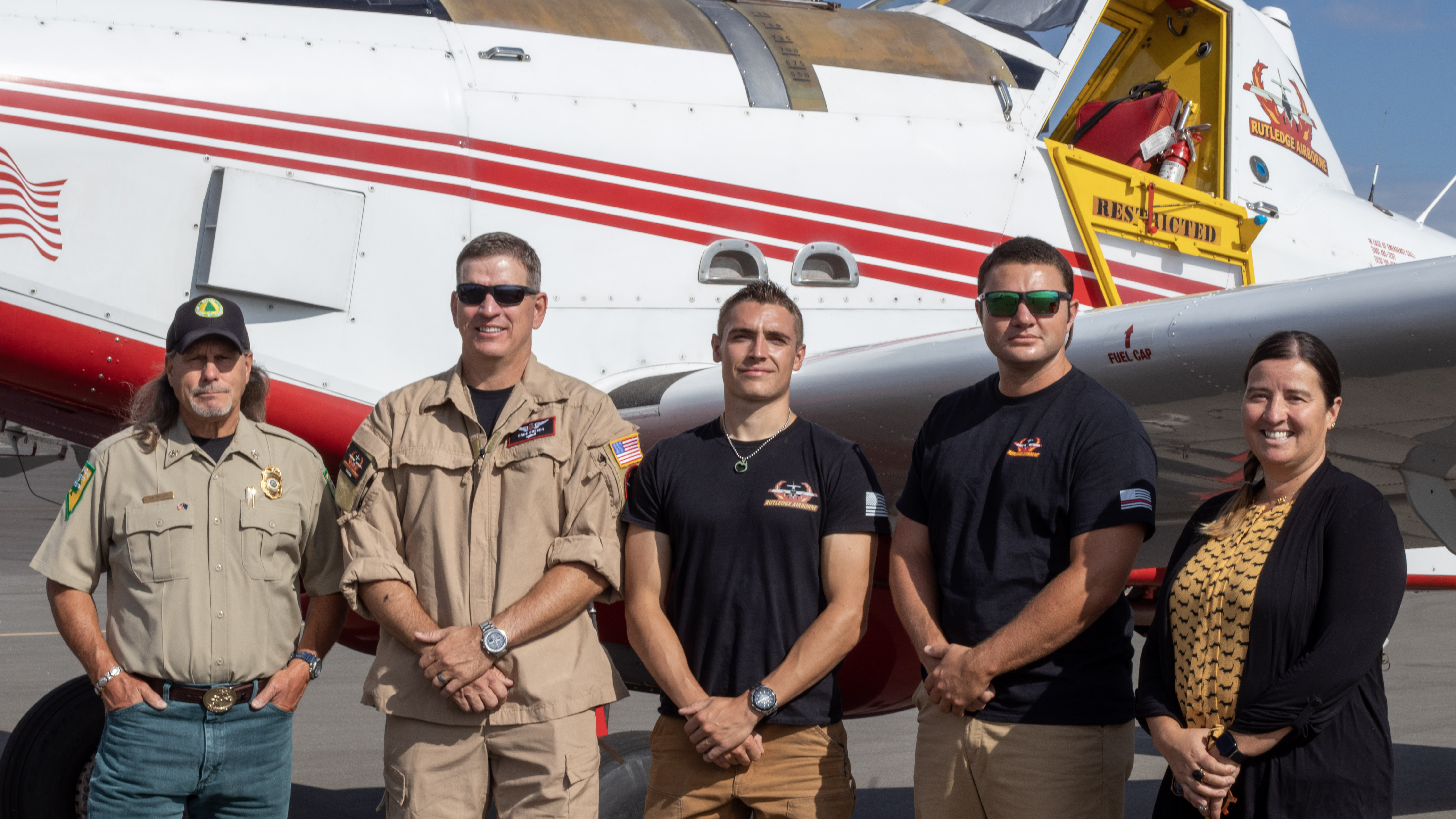 Rutledge Airborne Applications team at the Reno-Stead Airport. From left to right: Ron Bollier (NDF), Cade Boeger, Wyatt Jourdain, Tanner Bowers (Rutledge) and State Forester Firewarden Kacey KC